Farina: NATO is Ready to Defend its Territories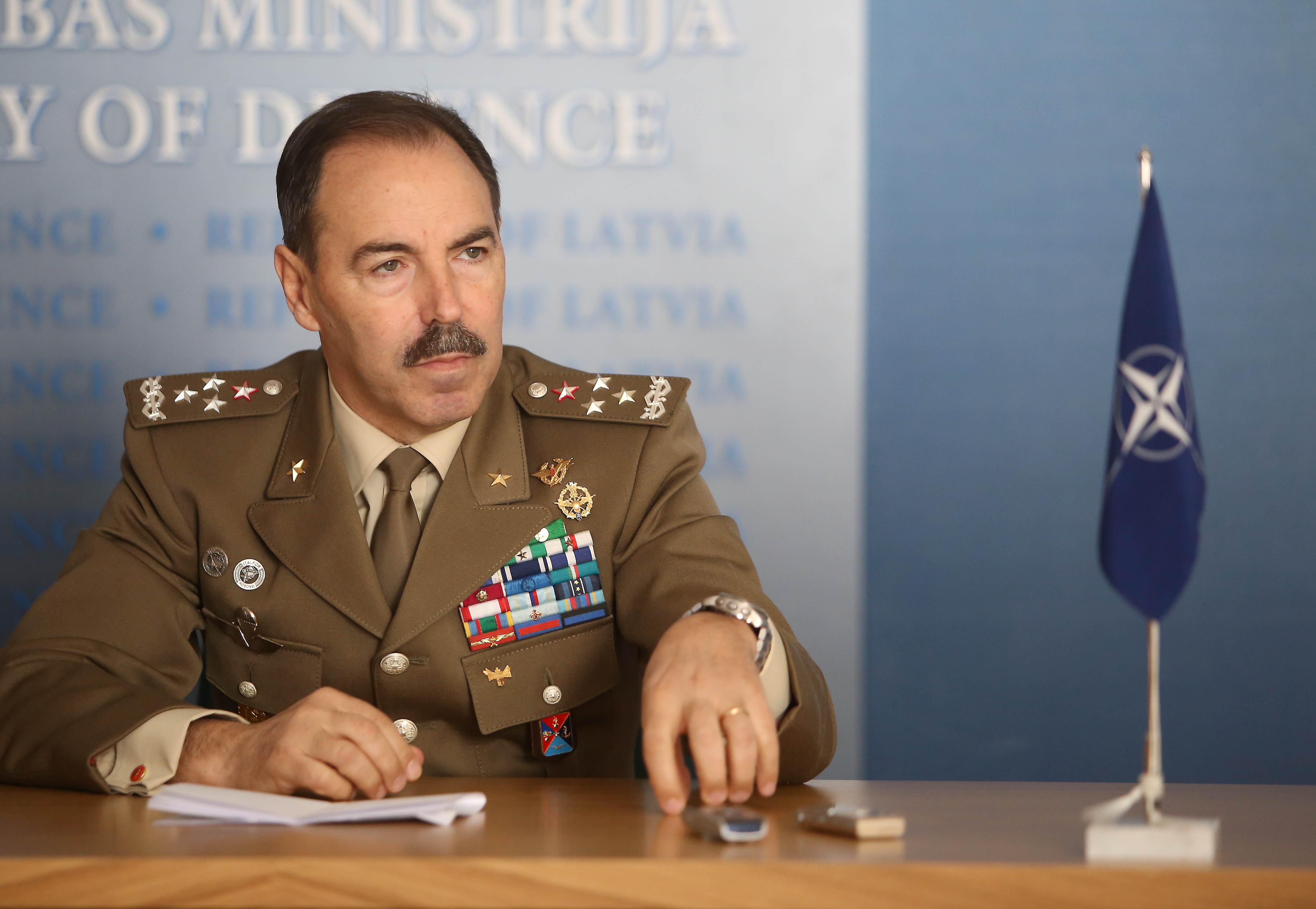 Commander of Allied Joint Force Command (AJFC) Brunssum Salvatore Farina said that NATO was and is ready to defend the territories of member states.
By Zelma Strupka
Commander of Allied Joint Force Command (AJFC) Brunssum Salvatore Farina in an interview with Defense Matters stated that NATO is supporting the war against terrorism. Judging NATO's capabilities  following the Wales summit and on the run up to Warsaw, the military official said that NATO was and is ready to defend the territories of member states. In his opinion, the current confrontation between NATO and Russia should be addressed through dialogue and NATO should be able to explain to Russia that everything NATO is doing is for the sake of securing its territories.
Could you elaborate on your main tasks and objectives as the new AJFC Brunssum? How do you see the overall future of NATO?
Let me start by saying how much AJFC Brunssum has done in cooperation with all the other member states, especially in the area of the Baltics and Poland, after the Wales Summit, specific steps have been taken; you are aware that NATO Force Integration Units have been established. Last week I signed the Initial Operational Capability and we are conducting exercises in order to be able to reach the full operation capability before the Warsaw Summit. You are also aware of the Very High Readiness Joint Task Force (VJTF) - if called on we are ready to deploy and ready to conduct a direct joint operation. In May, the VJTF will be deploying to Poland to demonstrate that they are ready and capable. Multinational Corps Northeast is another capability that has been implemented. Many things have been done and during the exercises in May and June we will be able to assess our operational capabilities. I think that if we are looking at the Wales to Warsaw period NATO's capability to be ready to defend the territories or member states has improved significantly. Of course, we will wait for decisions taken at Warsaw and my section will be ready to fulfill the task that we will be given. Having said that, I also would like to underline the great effort that the Latvian government is making to improve and increase its own defense capabilities.
You have mentioned what has been done after the Wales Summit, but what can we expect from the upcoming summit in Warsaw?
Of course, this is the time when debates are being conducted at a "political level". I cannot foresee the results and it is not my role. What I can say is that the officials will take into account the progress that has been made in the last couple of years and I am sure they will give us "a way forward" in order to be able to better respond to any threat in the future.
Can we expect new troop deployments in the Baltic States or a larger presence?
There have been requests by some countries for an enhanced presence of troops, indeed. At the moment, the debate is ongoing in the Military Committee on a staff level. I would like to remind you that NATO is a defensive alliance, which must be ready to respond and deter any kind of threat.
What kind of threat do you believe NATO should deter in the Baltic?
In the past few years we have seen some assertive behaviour from Russia and there have been episodes that could be interpreted as provocations. The threat is that in time we could have some problems. But I would like to say that the current confrontation and debate between NATO and Russia should be addressed through dialogue. NATO should be able to explain our defensive posture to Russia - that we are not here to provoke anyone and that everything NATO is doing is for the sake of securing our territory.
A while ago we saw an incident in the Baltic Sea in which Russian planes flew dangerously close over a US ship. What are the Russians trying to do? Is there some kind of provocation and are they trying to intimidate us?
I have said it before - as a military commander I can state that we do not like this kind of behaviour no matter who is doing it. But this behaviour could bring a mistake, an incident... We should avoid this because who knows what the intentions of such actions are.
Is there any understanding from the Russian side about this?
As you know, on the military level there are no technical meetings. But I am confident our political leaders intend to actively speak about this and I think that the more they will meet the more topics they will have to exchange. Being a military commander, and being obedient to the higher quarter, I wish that at every level above us that agreements are reached.
You have already mentioned the NATO Response Force but could you comment on its ability to react to potential threats quickly enough?
I think that for sure it is quicker than what it used to be two years ago, and it is something that we should bear in mind. It is also three times stronger. So the overall answer is that it is more capable, it has modern equipment, top standard training and assets, there are also air and naval components and it is coordinated by us. And this is more than it used to be just two years ago.
Last year was kind of a year of interim testing, but this year, in May, we are demonstrating the physical deployment. Of course, the question is - how many days would the Force need if something happened. Some say, that - oh, if we are subject to an attack, how can we respond. In my opinion, we have to be able to understand in advance what is happening - we have to be able to switch on the alert and the deployment phase as soon as we understand.
Being the person who basically would be responsible for the Baltic states in case of any military intervention, how do you assess our capabilities to defend ourselves?
 The greatness of NATO is that we are 28 - one for all, all for one. We are charging our capability to defend collectively. What I can say, if compared to two to four years ago, the capabilities of the Baltic States have improved a lot and they are going to continue improving. What NATO has provided in the last two years is the air policing of the area, and this is another demonstration of NATO solidarity. I think the key is to be consistent and cohesive in demonstrating multinational solidarity, and this is the best answer that we can give to anyone who wants to provoke or has bad intentions, or threaten the security of the Baltic States. NATO and my area of command stand very determined to prevent that.
In your opinion, what are the future challenges facing international security?
You said future challenges, but I think these challenges are already here. Let me start with the most recent challenge we are thinking about - terrorism. You may understand very well how in the heart of Europe this is considered as a threat to our freedom, to our right to move freely and to progress as nations. Unfortunately, this is a present threat which we are already facing. NATO and all its member states condemn these terrorist attacks but also in some ways NATO is supporting the war against terrorism, for example, providing training to Iraqi officers in Jordan in order to fight ISIL. But let me say that one of the most important responsibilities that I have is to direct and coordinate the mission in Afghanistan, meaning that NATO is still committed to Afghanistan and in eliminating "safe havens" for terrorists there.
Other challenges that I can mention is the migrant crisis in Europe's south which is evolving and could also bring additional terrorism to the continent. NATO is looking at it, trying to provide support, for example, in the Aegean Sea with the Naval Task Force. Of course, another challenge would be if Russia or any other country for that matter breaches international law again - this could lead to further threats.
Photo Credit: LETA